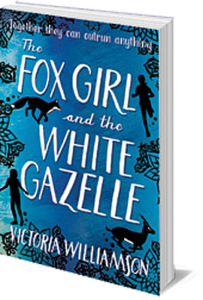 Winner of the 2020/2021 Bolton Children's Fiction Awards
Longlisted for the 2019 Branford Boase Award
Shortlisted for the 2018 Teach Primary Book Awards
Kirkus Starred Review
On EmpathyLab UK's 2019 'Read for Empathy' Guide
An USBBY 2019 Outstanding International Book
She is the Fox Girl.
I am the White Gazelle.
Together we can outrun anything.
Reema runs to remember the life she left behind in Syria. Caylin runs to find what she's lost. Under the grey Glasgow skies, twelve-year-old refugee Reema is struggling to find her place in a new country, with a new language and without her brother. But she isn't the only one feeling lost. Her Glaswegian neighbour Caylin is lonely and lashing out.
When they discover an injured fox and her cubs hiding on their estate, the girls form a wary friendship. And they are more alike than they could have imagined: they both love to run. As Reema and Caylin learn to believe again, in themselves and in others, they find friendship, freedom and the discovery that home isn't a place, it's the people you love.
Heartfelt and full of hope, The Fox Girl and the White Gazelle is an uplifting story about the power of friendship and belonging. Inspired by her work with young asylum seekers, debut novelist Victoria Williamson's stunning story of displacement and discovery will speak to anyone who has ever asked 'where do I belong?'
The Scottish Refugee Council's work with families like Reema's provides a much needed lifeline to those fleeing conflict and persecution, and in order to help support those who come to Scotland in search of a safer home, 20% of the author royalties for this novel are donated to the Scottish Refugee Council.
Praise for The Fox Girl and the White Gazelle:
'Relevant, moving and quite extraordinary.'
Lucy Coats, author of the Beasts of Olympus series
'A touching, thought-provoking adventure.'
The Bookseller
'A beautiful story singing with love and hope.'
Sarah Driver, author of the Huntress series
'An essential read in today's political climate.'
Lu Hersey, Mslexia Children's Book Award winning author of Deep Water
'Beautifully written, touching and inspiring.'
Nikki Sheehan, twice Carnegie-nominated author of Swan Boy and Goodnight, Boy, among others
'A wonderful melding of cultures – beautiful.'
Claire McFall, twice winner of the Scottish Teen Book Award for Ferryman and Black Cairn Point
'A well-crafted, sensitively drawn debut.'
Rachel Hamilton, author of Louie Lets Loose
'I can't imagine a more important message to convey in a book right now.'
Eloise Williams, author of Gaslight, the 2017 Wales Arts Review's Children's Book of the Year
(See these remarks in full on the News and Reviews page)