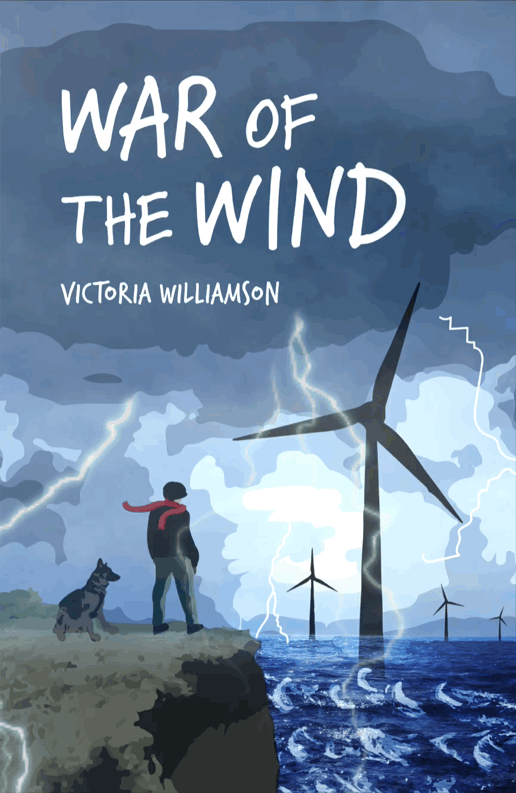 Winner of the YA-ldi Glasgow Secondary School Libraries' Book Award 2023
Shortlisted for The Week Junior Children's Book of the Year (Older Fiction) Award 2023
Shortlisted for the Leeds Book Awards 2023
Longlisted for the RED Book Awards 2023
Longlisted for the South Coast Schools ABA Book Awards 2023
BookTrust Book of the Month for February 2022
A Financial Times Best YA Books of the Year 2022
The Scottish Book Trust Book of the Month for November 2022
War of the Wind is an eco-thriller for 11+ readers about a secret government weapons test gone wrong. Featuring a cast of children with additional support needs, it shows their abilities in a positive light and allows them to take centre stage in the unfolding drama.
On a remote Scottish island, fourteen-year-old Max's life changes when he loses his hearing in a boating accident. Struggling to make sense of his new life and resenting having to attend the 'special' class at his local secondary school, he begins to notice strange changes that take place when a new wind farm appears off the island's coast. Soon it becomes clear that the islanders are acting oddly. In a few short weeks they become irritable, bad tempered and unpredictable. As the strange behaviour spreads to the children, acts of violence threaten to tear the community apart.
Unaffected by the changes due to his hearing loss, Max discovers that a sinister scientist, Doctor Ashwood, and the government are using the wind turbines to test a new soundwave weapon on the island population. With the help of three school friends with additional support needs, Max must find a way to shut down the wind farm's signals and stop Doctor Ashwood's plan before the out-of-control experiment has tragic consequences.
In order to support their work campaigning for equal rights for Deaf people and empowering Deaf people to achieve access to their local public services, 20% of the author royalties for this novel will be donated to the British Deaf Association.
Praise for War of the Wind
'Warof the Wind by Victoria Williamson is a thought-provoking, contemporary, utterly fabulous, eco-themed story with a brave, determined protagonist who is still coming to terms with his hearing loss as the result of an accident. An ideal P7 book'– Clare Fulton, Scottish Book Trust
'War of the Winda gripping, exciting, cleverly-plotted, and fantastically well written story of Max, a deaf teen who uncovers a sinister mind-control plot which threatens the safety of everyone on his island home. It had me on the edge of my seat, and I loved the disability rep, the realistic depictions of teen lives and challenges, and Max himself. 5 star read, highly recommended, especially for tween boy book-worms.'– Sinead O'Hart, award-winning author of Skyborn, The Star-Spun Web and The Eye of the North.
'The book that absolutely needed to be written: children with additional support needs see themselves reflected in the characters of a contemporary story. War of the Wind is a rare thing: a fast-paced adventure with real heart which does not gloss over the challenges faced by young people who are different. Empathetic, honest and compelling.'– Barbara Henderson, award-winning author of The Reluctant Rebel, The Chessmen Thief and Rivet Boy.
'What a pacy, engaging read! This exciting eco-thriller held me from first line to last: young teen characters realised with such warmth and insight; a threat to their island community that starts insidious, turns sinister and then terrifying. This is a writer handling her material – not least the characters with special needs – with confidence, care and skill. Strongly recommend.'– Beverley Birch, author and founder of Children's Writers& Illustrators for Stories & Literacy.
'An exciting environmental thriller with an empathy-fuelled inclusive twist. Excellent positive representation … we can all learn a little something from this!'– Dan Smith, award-winning author ofNisha's War, Boy X, and Below Zero.
'War of the Wind is a thrilling eco-thriller for teens by Victoria Williamson, author of the brilliant children's novels Hagstorm, The Fox Girl and the White Gazelle and The Boy with the Butterfly Mind. Tension and suspense build as the plot unfolds and there are some genuinely scary moments as Max, David, Erin and Beanie attempt "to stop a mad scientist from turning our island into a war zone".War of the Wind is an exciting adventure story with an important message about accepting differences.'– Lindsay Littleson, Kelpies Prize winner and Carnegie-nominated author of children's books including The Rewilders and Guardians of the Wild Unicorns.
'Places kids with different needs centre-stage. This book puts the turn in page turning. Go pre-order now!'– Justin Davies, award-winning author of Help! I Smell a Monster and Haarville.
'Excuse the pun, but Victoria Williamson's fantastic environmental thriller with a great cast of inclusive characters has blown me away! Don't miss War of the Wind when it's published at the end of this month.'– Kate Wiseman, award-winning author of Gangster School and Icarus and Velvet.
'Max struggles with the sudden loss of his hearing. When wind turbines appear in the bay, events turn sinister. Victoria Williamson cranks up the tension perfectly until the book's thrilling ending. We are reminded not to underestimate those different from ourselves. Bravo, Victoria!'– Juliette Forrest, award-winning author of The Mountain Rescue Dog and Twister.
'My daughter is partially deaf so it was a book that I'll be pointing her way when she's a lot older. I also enjoyed the sign language explanations in the book. This really was a book that says yes people can be different but everyone should accept that. I also enjoyed the eco side to the story – such a good read.' – Reading and Life of a Bookworm Blog.
'A truly powerful book that highlights many of the issues facing young people in their daily lives. This book is a must read. It will make you stop and think about how our actions affect others and also our own blindness to something we say or do. A gripping plot that will have you desperate to read more. The story is full of suspense – just when you think things can't get worse a event will arise that has your heart in your throat.' – Books We've Read and Loved Blog.
'War of The Wind is a classic story of good vs evil but with an environmental twist that made it feel very current, so much so you could imagine it actually happening. This was a real page turner, with all the suspense and intrigue to keep you reading into the night. With themes of family, disability, facing adversity, bullying and environmental issues this is an all-round winner.' – Twilight Reader Blog