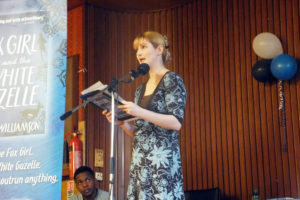 The Launch took place on the 21st April 2018 at Hillhead Library in Glasgow, in conjunction with the Scottish Refugee Council. It was a brilliant afternoon! Click here for a GALLERY of the event.
I gave a talk about my journey to becoming an author; the importance of diverse character voices in children's literature; and the inspirations I drew on to create my debut novel.
Lisa Seibold from the Scottish Refugee Council spoke about the work her organisation does with new refugees and family members of refugees reunited in Scotland to assist them in integrating in the country. She also gave us some ideas about what each of us can do to help this worthy cause. Guest speaker Alex gave a moving account of his own experience of being forced to flee Kenya as a child to seek refuge in the UK. Today, after graduating with a degree in Business Studies, he feels at home in Scotland and he now volunteers with the Scottish Refugee council to help others who have been forced from their homeland.
You can listen to a podcast of the launch HERE
Next up there was a delicious (and massive!) cherry cake representing the book cover, which was reduced to crumbs within minutes! We celebrated Scottish and Syrian culture with a wide range of traditional food and drink. Everyone was welcome and while we enjoyed the food we were treated to an unusual mixture of Syrian and Scottish music!
I had lots of fun meeting guests and signing books, and finally the raffle was drawn and many fabulous prizes were won, all of them donated by local businesses and brands in aid of the Scottish Refugee Council. What a fabulous day!
A huge Thank you to everyone who came along and gave their support!
Here is a full list of the companies and businesses who very generously provided raffle prizes and product donations:
Experience Days – www.experiencedays.co.uk
Charlie Bears – www.charliebears.com
Vine and Canvas – www.vinencanvas.co.uk
Wellsfield Farm Park – www.wellsfield.co.uk
Glasgow Music City Tours – www.glasgowmusiccitytours.com
Open House Studio – www.openhousestudio.co.uk
M&D's Theme Park – www.scotlandsthemepark.com
Treasure Trails – www.treasuretrails.co.uk
Kelbourne Saint – www.kelbournesaint.com
Aerial Edge – www.aerialedge.co.uk
Drawing and Painting Studio – www.drawingandpaintingstudio.com
The Climbing Academy – www.theclimbingacademy.com
Hamley's (Glasgow St Enoch Centre) – www.hamleys.com
The Body Shop (Glasgow St Enoch Centre) – www.thebodyshop.com
Tesco Metro Sauchiehall Street – www.tesco.com
Podiatry Clinic Renfrew
Tunnocks – www.tunnock.co.uk
Shortbread House of Edinburgh – www.shortbreadhouse.co.uk/
Nairn's Oatcakes Limited – www.nairns-oatcakes.com/