The Hag Storm Book Launch was hosted by the Robert Burns Birthplace Museum in Alloway, and took place in two author talk sessions for families at 11am and 1.30pm in the Robertson Room on Saturday 30th October 2021.
With book readings, quizzes on Scottish folklore and history, and a look at the storyline of the witch-filled novel inspired by Robert Burns's' poem Tam o' Shanter, the talk went down well with the primary school children who were keen to contribute their answers to the discussions!
During the book signings there was a book cover cake and snacks available for the audience, and lots of children (and some of the adults!) enjoyed trying out the Halloween-themed crafts which included pumpkin and balloon decoration, designing magic potion bags, and making spooky wool doll decorations based on the enchanted corn dolls in the book.
Have a look at the pictures in the gallery to see how event went: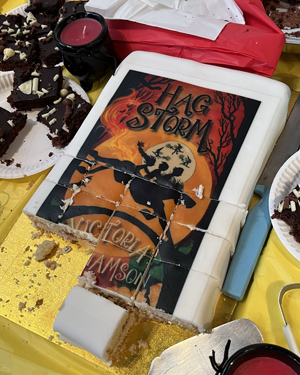 See the photo Gallery here