I was thrilled to be invited to be Author in Residence at Forrester High School in Edinburgh for the 2018/19 school year through the Scottish Book Trust Live Literature Residencies scheme. This collaborative project involved working with the English department teachers and school librarian on a project to help enrich the creative writing of the fifth year students for their exam portfolio.
The first step was to find out what the students were interested in! The best stories build on topics and ideas that interest the writer, so the teachers carried out some research to find out what the students liked to do most in their spare time: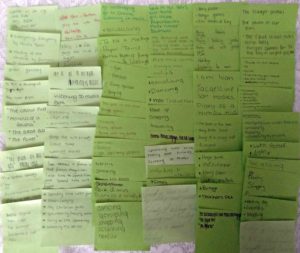 In our planning meeting, we discussed the aims of the project, and suggested ways incorporate the students' interests into a series of creative writing workshops. Films and TV shows were high on the students' lists, and we decided on a project that involved groups of students writing a pitch for a TV show pilot episode. This would cover the areas of characterization (description, backstory and voice), taglines, loglines and synopses, short story structure, soundtracks and atmosphere building, and storyboards.
[Click here to see a gallery of our meeting pictures]
Workshop 1
In workshop 1, the students looked where ideas came from, ways to record ideas and how to write more interesting physical descriptions of characters. They practised writing extended physical descriptions from bullet points, and the groups had a go at describing characters based on a set of objects belonging to those characters.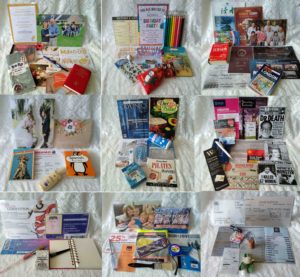 [Click here to see a gallery of Workshop 1]
Workshop 2
In workshop 2 the students practised making their descriptive writing more interesting using 'showing' not 'telling', they also looked at examples of strong character voice, and thought about the way the characters in their TV pilot episodes might talk.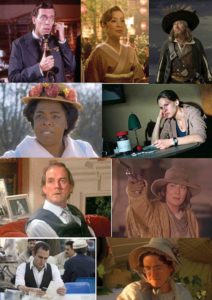 [Click here to see a gallery of Workshop 2]
Workshop 3
In workshops 3, the students practised writing loglines and taglines for films and TV shows based on synopses, and had a go at writing loglines and taglines for their own TV show pilot episodes.
[Click here to see a gallery of Workshop 3]
Workshop 4
In workshop 4, the students looked at the five-part structure of short stories using an example, and applied it to their own Higher English portfolio pieces. They also looked at different types of openings and endings for their TV show pilot episodes.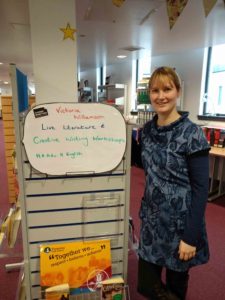 [Click here to see a gallery of Workshop 4]
Workshop 5
In workshop 5, the students thought about how to use music to build atmosphere, and practised writing descriptions based on pieces of music they listened to, then they selected some pieces of music for their TV show pilot episodes. They also looked at storyboard examples as a useful tool for planning a scene in a film, TV show or short story, and started drawing their own storyboards.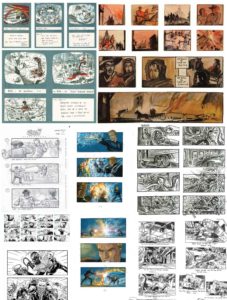 [Click here to see a gallery of Workshop 5]
Workshop 6
In workshop 6, the students worked on pulling together all of the material they had produced into a presentation for their TV pilot show pitch, which included a description of the main characters (including examples of character voice and a physical description), a logline and tagline, a short synopsis of the episode, a storyboard for one key scene, a playlist, an ideas notebook showing all of their ideas, and visual aids such as a promotional poster. Some students also answered some interview questions on camera to record what they'd done during the workshops.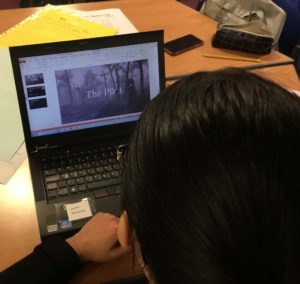 [Click here to see a gallery of Workshop 6]
Celebration Event – TV Show Pilot Episode Presentations
The final event we held to celebrate the students hard work took the form of presentations, and each group had the opportunity to showcase their work to other students and teachers invited to the event. The English department laid on a fantastic indoor picnic, and we all enjoyed tucking in and listening to some of the great ideas the students came up with during the course of the workshops!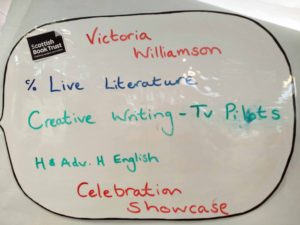 [Click here to see a gallery of the Celebration Event]