In autumn 2021 I was commissioned by Renfrewshire Council to lead a series of creative writing workshops with children as part of their Arts and Heritage 'Pen Pals' project, led by Regine Bews. Fifty children took part in the project from Renfrewshire's School of African Cultures, Renfrew Syrian Refugee Settlement, Inspiring Families Development Network Scotland, CAMASS (Cameroonian Association and Sympathisers in Scotland) and The Global Citizenship Group from Wallace Primary School in Elderslie. To get the children started, I provided a booklet of letter writing tips, which was included in a pack sent out to each of the participating children, which included the pens, paper, envelopes and stamps they'd need for their letters.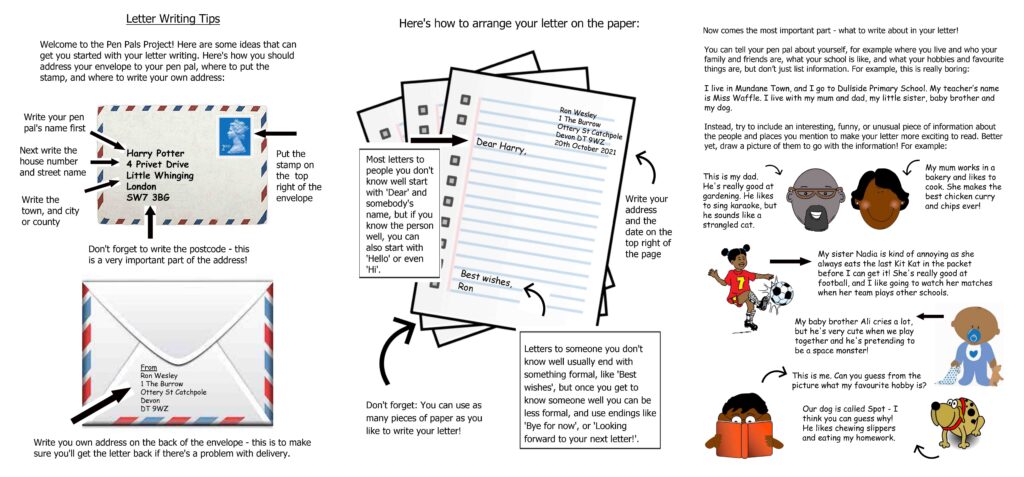 The children were then invited to take part in an online creative writing workshop which included a range of activities to help them plan their letters and make them as interesting as possible. These activities included descriptive writing of festivals and family events, drawing labelled pictures of hobbies, family members and friends to highlight character traits, and creating maps of their local area to help with recall of interesting events.

The children wrote letters to their designated pen pals over the following months, and their letters and artwork were collated into a special commemorative booklet illustrated by Persian artist Razieh Sarafraz. In March 2022 the children had the opportunity to meet their pen pals at a special event held at Mossvale Community Church in Renfrew, During the afternoon, the children chatted during special drawing and sewing workshops, and were presented with gift packs containing the Pen pals project booklet.

You can see a gallery of the children's work here:

And read more about the Mossvale Church Meet Up here: