Resources for Schools
THE BOY WITH THE BUTTERFLY MIND RESOURCES
Small acts of kindness can go a long way. Floris Books has created a gorgeous butterfly poster, with space for you to add words and pictures for someone who needs an extra bit of kindness! A great tool to start a conversation about empathy, and a beautiful addition to your classroom wall!
Download them from the Discover Kelpies (Floris Books) website here.
THE FOX GIRL AND THE WHITE GAZELLE RESOURCES
Below you will find a downloadable PDF of teaching resources containing a wide range of cross-curricular activities to accompany the book and explore refugee issues, bullying, friendship, empathy, wildlife conservation, different cultures, religion and belonging.
These resources are suitable for Curriculum for Excellence Level 2 and Key Stage 2 (Ages 9-12)
The Fox Girl and the White Gazelle Learning Resources – Victoria Williamson(PDF)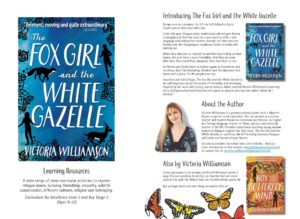 ---
Looking for a reading programme for your school? VIP Reading is a proven programme utilising beautifully made resources, by teacher Rob McCann and illustrated by Lincoln-based artist Andrew Bailie, to promote reading for pleasure and children's independent reading. I am currently one of the authors linked to the programme, and you can download these great free bookmarks to get you started on your reading adventures here: